Hey y'all. It's me, ya boy, Jae Wiggz aka The Iraqi Sympathizer. Before I get into this post, a bit of news. My JaeWiggz Twitter account got hacked by some Arabian Knights. I wish that I was kidding, but it's true. My timeline went from the regular rantings of wrestling and NY sports fans to this:
One of them is verified? Dafuq?
So, out of fear of being investigated by Homeland Security, I have made a new Twitter account. From here on, my Twitter identity will be
@WiggzRantz
. I suggest you unfollow @JaeWiggz because it's definitely not me anymore.
Now, onto this post. I'm bringing you a new album review. Probably the most anticipated album release of the year (with all apologies to
Jay-Z
and
Kanye West
). Eminem is an artist that needs no introduction. The most successful Caucasian rapper in history? If you're not familiar with his body of work, then please, lend me the time machine that you came in from so that I can go back and stop Linkin Park from becoming all weird. Anyway, here's the review.
1. Bad Guy (4.5 stars)
I dig the beat. I
really
dig the switch up beat for the part two. Nothing much that I can say about the beat. The issue is that it took me a solid three days to finally understand this track. I had no idea what I was listening to, but I knew that I liked it. I had to clear my entire day and just sat down and listened. This is sorta kinda like the unofficial sequel to "Stan". You have to really listen hardbody in order to catch it. I think that my overall hype for finally getting this album was what prevented me from being able to get into the track. It's sick as hell.
2. Parking Lot (Skit) (no rating)
A skit is a skit is a skit. I don't listen to albums for their skits (unless they're hilarious), and this was just meh. Keep moving.
3. Rhyme or Reason (3.5 stars)
This track was produced by Rick Rubin. Rick Rubin has produced some of the best music in our generation. He has a way of blending rock and hip hop to create these incredibly innovative sounds that mortal ears to this day cannot clearly comprehend. What did he do for this track? He took the classic "Time of Season" (you know, that song that plays on almost every car commercial ever), and just added a simple beat over it, gave it to Eminem and told him to go in. I don't really care for this track. Eminem is flowing his ass off, which is expected. I just couldn't attach myself to it.
4. So Much Better (4 stars)
Here's the first legit "I'M EMINEM AND I HATE EVERYTHING" track of the album. I dig it. To be honest though, I'm a bit annoyed by
this
Eminem. I get it, you had issues growing up. We've all had issues to some degree, but we all get over them, bruh. It's not healthy to be this angry, Just lay off the aggression. If you're one of those Forever Angry type of people, then here you go.
5. Survival (3.5 stars)
This is the track that plays during the Call of Duty: Ghosts commercials. This is an incredible workout/inspiration/montage track. The rock elements are really good. It's missing a legit hard knocking bass, but that doesn't take too much away from this. It's a little too pop for my particular taste, but it's a legit track.
6. Legacy (3.5 stars)
I don't really know how I feel about this. It's more of that "I have issues" Eminem that I'm tired of hearing. We've heard his story over the course of nine albums and a movie now. We know about Hallie, Kim, and everyone that you want dead in your life. What people want to know is what you've been doing during your hiatuses from the game. That's the track that I'm waiting for.
7. Asshole ft. Skylar Grey (4 stars)
Let me start by saying that I usually hate anything that has Skylar Grey in the credits. Every song that she does is usually an annoying ballad. I can't stand her voice. I can't stand looking at her.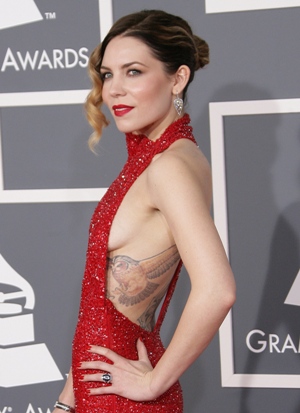 Dat Side Bewb Tho
Part of the difficulty of me listening to this album is trying to separate the lyrics from the beat. This beat is absolutely insane. It makes me want to climb Mount Everest. I mean, not
just
climb it, but I mean, have a hard time with it. Like, I'm climbing, right? I get to a point where it's purely vertical, and one of my arms slips off! I'm losing my grip, but a montage of my wife and kids flashes in front of my face. That gives me the will to reach up and grab the craggy tip of that mountain, pull myself up to the peak, and yell out "VALHALLA" for absolutely no reason.
.....no? Okay
The lyrics are tight as hell. The thing everyone is going to take away from it is the shot at Asher Roth. It's exactly the same type of unnecessary shot that Jay-Z took at Beanie Sigel on
Drake's "Pound Cake."
There was no reason for it at all. Asher Roth's relevance fell so low that Memphis Bleek is laughing. Was that me taking an unnecessary shot at Bleek? Yep, but it's okay because I'm not famous.
8. Berserk (2.5 stars)
Rick Rubin is at it again. Rick Rubin made "99 Problems". He co-founded Def Jam aka Hip Hop Heaven. Rick Rubin is capable of great things. This track is not one of those things. I don't care for anything that's really happening here. This track sounds like a Beastie Boys tribute track. Eminem is doing his best impression of all three of them simultaneously. I don't like the hook, I don't like the content, I don't like this track. It just doesn't jive with me. Skip.
9. Rap God (5 stars)
....and then this track happened. It's six minutes of pure lyrical death. Eminem does the rap-really-fast gimmick that helped give Busta Rhymes an extra 20 minutes of juice after you change one bad battery in the remote control. The difference is that the beat didn't have to drop for me to have to understand what was happening. I could take points off for not staying on any specific topic during this track, but I don't care. This track goes hard. The point of this track is that Em can spit the best lyrics that you've ever heard at any given time. This is the first legit Repeat 1 track on the album for me.
10. Brainless (4.5 stars)
There's a piano sample, so I already love this beat. The bass is hard, so I love it more. I dig the lyrics. Dude is going kind of hard here. There only thing that I don't like is the hook. At one point towards the end of the track, it sounds like Eminem is slowly morphing into 50 Cent (currently vacationing on the same island as Missy Elliot). I dig it.
11. Stronger Than I Was (1.5 stars)
Eminem cannot sing. He knows this. Why he chose to do so on this track is beyond my comprehension. This track sucks balls. I don't even care about whatever story he's trying to struggle-croon here. I hate it. Hate hate hate it. It's horrendous. This track is probably very therapeutic for him, but
I'm
not the one seeking therapy. I'm seeking musical entertainment, and this track is not it. It will never be it. If I want a track to inspire me to be "Stronger Than I Was", I'll find the thousands of other songs that were better than this. Ugh. Skipped and deleted.
12. The Monster ft. Rihanna (3 stars)
Anytime I see Rihanna on the credits, I expect that track to be overplayed on Top 40 radio stations across the country. I get needing to make a track for general consumption, so I won't flame it too hard. It's actually an entertaining affair, but Rihanna's voice has always been grating to me. Kidz Bop will have their version of this out in about two months.
13. So Far... (3.5 stars)
Another Rick Rubin production. Another rap/rock mash up beat sample. This one is actually okay. I don't mind this track. Again, for having a legend like Rick Rubin working on an Eminem album, I expected so much more. I think my issue with this album so far is that I was so hyped going in because of it being Eminem. I expected every track to smack me across the face with a weight lifting belt. It just hasn't happened yet.
14. Love Game ft. Kendrick Lamar (4 stars)
So, looking at the track listings before I heard a single song from this album, I saw Track 14: Eminem featuring Kendrick Lamar. My heart jumped into my throat. I thought that I was about to hear a 2.0 version of "Renegade". I thought I was going to hear a "Walk This Way" or a "Notorious Thugs" or a "Dead Presidents". I thought that there would be no better piece of music that I could possibly hear. I even said a prayer before I pressed play:
"Lord, please don't let me catch a heart attack from the pure awesome that's about to fly out of my speakers and assault my eardrums. Amen."
Press Play.
The disappointment of hearing Eminem doing fake dick sucking sounds and Kendrick Lamar spitting a very pedestrian verse over a beat that sounds like it was made from clips of Happy Days and Leave it to Beaver episodes was just... I was so upset. So incredibly upset. Kendrick is fresh off of the "Control" verse where he ethered all of hip hop. He was fresher off of "Nosetelagia" where he kept that momentum going. He was even fresher off that BET Cypher where he went absolutely ape-shit at nothing in particular for a solid three minutes. Kendrick Lamar is the It Factor of Hip Hop right now. Having him do such a weak feature on such a weak track by Eminem's standards, which was
again
produced by Rick Rubin... I can't even complete my sentences. Eminem was kinda trying to channel his inner Slim Shady from 1999, but he's not that guy anymore. His last three or so albums were concentrated efforts in trying to kill that version of him, and to bring that back out
now
?
I expected blood on this track. I wanted to have a simultaneous stroke/ulcer/pregnancy during this track. I wanted to rip my beard off of my face and put it on my head. I legit wanted this track to fade out with both of them rapping over each other for position. Despite all of the negativity that I just threw at this track, it's
still
a good track. If Em was still Wicky Wicky Slim Shady (not to be confused with Ficky Ficky Timbaland), then I wouldn't be so taken off guard by the sound of this track. Especially considering the tone of this album up to this point. I can keep going, so I'll just leave it as disappointingly entertaining.
15. Headlights ft. Nate Ruess (5 stars)
I don't know who Nate Ruess is or where he came from, but he sounds like a chick on this hook. He legit sounds like he's doing a hybrid Sir Elton John and Dido impression. It's not bad at all, just threw me off. This track is another change of pace, but in a different way. If you've been an Eminem listener for his career, you would know about his rough upbringing. This track is him kind of looking back and forgiving the people (most specifically, his mom) for it. See, this is what I was waiting for. You can be Forever Angry, but where does that get you? You lock people out, you close people off, and you never really get to a healthy place until you let that anger go. Hell, the hook on this track says "I guess we are who we are, maybe we took this too far." Once you let go of the things that caused you pain, you can start making a beautiful future. This song is that beautiful future. I absolutely love it.
16. Evil Twin (5 stars)
Eminem is bored. He's called out every pop star and entertainer that he's hated throughout his career. He looks at what's around him now and sees that no one is really worth it (even though he went at Asher Roth half an album ago). This track is Em acknowledging that the game hasn't changed, but the players have. He doesn't really care about the players now because he feels that they can't touch him. The beat is tough, the lyrics are to the point, I dig it
FINAL VERDICT:
Eminem is a veteran of hip hop. He's in everyone's Top 5. He's one of the Mount Rushmore figures of the game. The issue now is that what else can he talk about? He's been the goofy white guy at the black party. He's been the angry, druggy rebel celebrity. He's been the rags to riches mainstream success story. He can't keep rehashing those versions of himself. "Headlights" was an excellent track where he can start completing the lyrical therapy sessions that he's been giving himself over the past fifteen years. This album didn't have a clear theme. This album was noticeably missing Dr. Dre as well. Despite it's title, it is absolutely not a sequel to the first Marshall Mathers LP. I found myself listening to most of the album like this: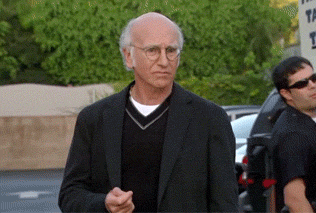 It was hard for me to follow the theme because I couldn't find it. It was hard for me to judge this album because I didn't know what I was supposed to be listening for. It was hard for me to initially say that I liked it because I couldn't really gather clear thoughts on it. Everyone was asking me what I thought of it and I couldn't answer them. I legit didn't know. Hell, it took me a week of listening to this album before I even attempted this post. When a track grabs me, I'll bookmark it. I'll know exactly what I was doing and where I was when I was assaulted by that track. I didn't feel that here. This album, I had to sit down, clear my desk, close my eyes, and just listen.
Like I said, I think that my initial hype of it being an Eminem album threw me off from being able to really absorb this album. Overall, I like it. I don't hate it like many people immediately took to Twitter to declare. I don't love it like most Eminem stans (a term he coined btw) took to Facebook to declare. I enjoyed it. I was disappointed by it. I wasn't blown away by it. I didn't delete any tracks yet.
It's a C+ to B album, depending on the day.
Don't forget to follow my NEW
Twitter @WiggzRantz
Until Aladdin finds out my password again.
- 2 Fingaz